CHIP Reverses Lifestyle Diseases with Fork & Knife "I invite you to take charge now and join a 30 day adventure that can revolutionize the rest of your life! Thousands of CHIP Graduates testify that simple and inexpensive lifestyle changes can add years to your life and life to your years." More about Dr. Diehl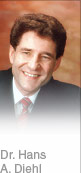 November 17 – 21, 2010 in Loma Linda, California
We are pleased to announce that CHIP Summit 2010 will be held once again on the campus of Loma Linda University. It will begin early afternoon on Wednesday, November 17 and will end before noon on Sunday morning, November 21. Registration with PlusLine will be announced later in 2010.
CHIP Summit 2009 was a great success, thanks to the Lord's blessing and the contributions of so many. Attendance rose to over 350 during the Summit representing the USA, Canada, the United Kingdom, and even Australia. The following links provide a review of the 2009 web pages, a collection of Summit pictures, and an order form to purchase DVD's or CD's of the speakers' presentations:
Website Pages from Summit 2009
Picture Gallery from Summit 2009
Order Form for Summit 2009 CD's
Order Form for Summit 2009 DVD's
May the Lord continue to use CHIP Summits to extend health and healing to our churches and communities all around the world.
CHIP, an acronym for Coronary Health Improvement Project, is an affordable, 30 day lifestyle education program with thousands of graduates worldwide. It is sponsored by local, certified leadership; is community based; and has a strong, ongoing support system. CHIP encourages a close working relationship with one's personal physician.

o ensure that CHIP programs around North America and beyond meet the expected standard of excellence, basic leadership training is needed to equip church teams to conduct their first CHIP class. For a list of currently scheduled leadership workshops, click here.
To bring a CHIP training workshop to your local church or conference, click here.

CHIP programs are presented all around the world with new locations being added continuously. Click here for a list of current programs and their start dates. If you need additional help, contact us directly.

During our CHIP programs and Summits we are very fortunate to have photographers snapping pictures to share with you. Click here to be taken to our Photo Gallery page where you can choose from many different slideshows.
Moist bananna muffins, smooth lemon cheesecake, edamame curry stir-fry… healthy food can

Moist bananna muffins, smooth lemon cheesecake, edamame curry stir-fry… healthy food can
Scientific and medical journals continue to praise CHIP's methods of lifestyle change for coronary health. Read what doctors and scientists have to say about CHIP.

Please read some of the articles and news items listed below.
The Best Walking Partner: Man vs. Dog
Pennsylvania University requires overweight students to take an exercise class before they graduate.
Rocky Mount Lifestyle Health Center focuses on heart health.
A start-up company is aiming to lower medical costs by offering employees healthier diets. (NY Times – 11/29/09)

Dr. Diehl presents compelling video presentations on health topics…